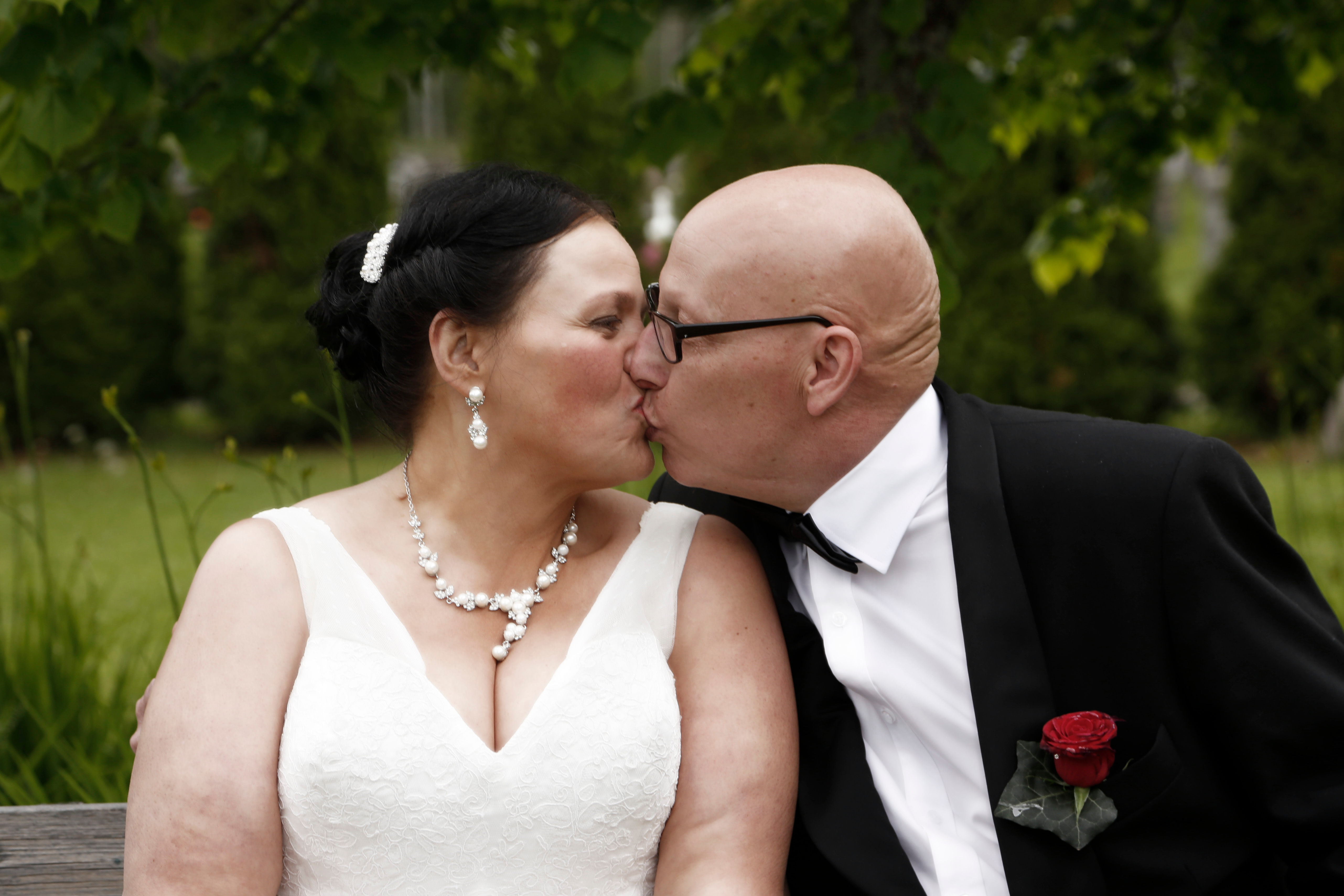 Kjære vakre kona mi! Jeg elsker deg. Nå er vi endelig gift. Alle gode ting er 3 🙂
Det er så mange ting jeg skulle sagt om deg og forholdet vårt. Jeg klarer dessverre ikke å holde en lang tale. Du vet hvordan det er.
Tusen takk for at du fant meg. Du har gitt meg mer enn du og jeg aner. 1+1=3. Vi er mer enn oss 2 til sammen. Når vi virkelig er i modus, skaper vi magi og stråler sammen. We rock!
Vi har hatt våre problemer i lange perioder, men de er ingenting i forhold til det vi skaper sammen i de gode stundene. Jada, vi har begge bagasje å bære på som kolliderer med hverandre i sin eksistens. Men vi finner alltid måter løse dette på. Når alt kommer til alt er vi veldig romslige begge 2. Jeg elsker deg for det.
Du er så flink til å støtte meg, når jeg har mine problemer. Samtidig utfordrer du meg ved å presse grensene mine. Jeg har blitt et mye bedre menneske på de 10 årene vi har hatt sammen. Håper vi kan fortsette med det.
Jeg er så stolt av deg for alt du har gjennomgått mens vi har vært sammen. Slankeoperasjonen og alle komplikasjonene. Du har vært tøff som har stått i det. Jeg er takknemlig for å ha kunnet være med og støtte deg i den lange veien mot mål.
Søstera di døde helt i starten av forholdet vårt. Det var en tøff tid som jeg var med deg i, hele veien. Tross den vanskelige tiden, har dette gitt meg mulighet til å se deg som du er. Naken og sårbar. Jeg elsker deg enda mer etter å ha fått opplevd det. Samtidig fikk jeg et innblikk i den flotte familien din, (nå vår familie). De stiller alltid opp når det trengs. Det har jeg også fått oppleve mang en gang senere. Tusen takk for at dere tok meg imot som om jeg var en av dere.
Vi traff Blink! Ja vi møtte hverandre på nettstedet Blink, som Dagbladet hadde. Tusen takk, Dagbladet. Det er godt at det fantes arenaer som gjorde at vi fant hverandre.
For meg er du den stolte sterke jenta, som gir meg kjærlighet, oppmuntring og korreks når det er nødvendig. (Og det er ganske ofte hehe). Takk for at du er den som ikke bare duller med meg, men gir meg utfordringer som gjør at jeg vokser i meg selv. Du har hjulpet meg til å bli sterkere og ha større tro på meg selv. Jeg har blitt en bedre utgave av meg selv p.g.a deg.
Til slutt vil jeg lese et dikt, på engelsk, som jeg har skrevet til deg:
The shields
The shields are gone.
My self-esteem is lying there
as an open wound
aching in pain.
My spine is threatening to break.
Kept up by stubbornness
and gleam of light
from the one I love.
My girl is keeping me alive
by here kind understanding
and her loving tenderness
barely appreciated by a shivering soul.
I yearn to live life fully with you
to achieve what we deserve
together in unbounded love
for life and each other.
Elsker deg! Håper vi kan leve sammen til vi dør!
Takk, kona mi!

English translation:
Dear beautiful wife! I love you. Now we are finally married. Third time's the charm 🙂
 .
There are so many things I would like say about you and our relationship. I am unfortunately not able to give a long speech. You know how it is.
 .
A million thanks for finding me. You've given me more than you and I can imagine. 1 + 1 = 3. Us combined are more than 2. When we really are in the mode, we create magic and shines together. We rock!
 .
We've had our problems for long periods, but they are nothing compared to what we are creating together in the good times. Sure, we both have luggage to carry witch collide with each other in their existence. But we can always find ways of solving this. After all, we are very tolerant both of us. I love you due to that.
 .
You give me fantastic support when I have my problems. As well as you challenge me by pushing my limits. I've become a much better human being during the 10 years we've had together. Hope we can keep on doing it.
 .
I'm so proud of you for everything you've gone through while we've been together. The weight loss surgery and all its complications. You've been tough to endure it. I am so grateful to have been able to join you and support you in the long road towards the goal.
 .
Your sister died in the very beginning of our relationship. It was a tough time and I was with you all the way. Despite the difficult times, this has given me the opportunity to see you as you are. Naked and vulnerable. I love you even more after experiencing it. At the same time, I got an insight into your great family, (now our family). They are always there when needed. I've also been able to experience it many a time later. Thank you for welcoming me, as if I were one of you.
 .
We hit Blink (Bullseye)! Yes we met on the website Blink, "Dagbladet", (Norwegian Newspaper), hosted it. Thank you, "Dagbladet". It's nice that there were venues witch enabled us to find each other.
 .
For me you are the proud strong girl who gives me love, encouragement and correction when necessary. (And it is quite often ha-ha). Thank you for being the one who not only pamper me, but give me challenges that I grow myself. You have helped me to be stronger and to experience a growth within myself. I have become a better version of myself because of you.
Finally, I will read a poem in English, which I have written to you:
Love you! Hope we can live together until we die!
Thank you, missus!